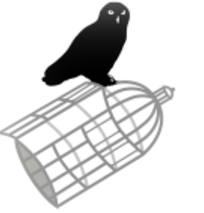 The case against a group of people accused of having attacked the Greek Embassy in Belgrade has gone on for 7 years already. On July 25, a new chapter in this grotesque process opened when judge Goran Ramic presented a new sentence, convicting four of the defendents and acquitting one. Ratibor Trivunac was sentences to an 8 month suspended sentence for 3 years, Ivan Vulovic, Sanja Dojkic and Ivan Savic were condemned to six months suspended for 2 years. Tadej was aquitted. This is not the end of the case, since we will appeal this farse until the end, until all the "Belgrade Six" are completely cleared of all the charges.
We remind people that on September 3, 2009, six people (four of which are members of ASI) were detained on the suspicion that on August 25, 2009, at 3AM, they painted a circle A – a symbol of the anarchist movement - and threw 2 "Molotov cocktails" at the Greek Embassy. The six were detained during the night and were kept in custody for 6 months. The then Prosecutor, Slobodan Radovanovic, personally intervened to ask that charges be added of " international terrorism". The Prosecutor tried to implicate all of ASI with the intention of declaring it a "terrorist organization" in the frame-up of the "Belgrade Six". Thanks to strong international pressure, acts of public support and the echo of the case in the media, they decreased efforts to implicate ASI. The Tribunal decided to release the anarchists during the first trial in February 2010 and on June 16, 2010, the Supreme Tribunal judge Dragoljub Gerasimović asked decided that the accused should be aquitted of all the charges. But this was not the end, but the beginning of a political trial that is soon entering its 8th year.
In April 2011, ASI launched a campaign against NATO and in response they would organize an event planned from 13-15 of June. The first protest was scheduled in from of Sava Center in Belgrade. This peaceful protest was surrounded by police, they were insulted and plain clothes police brutally detained 8 people, 3 of which were members of ASI. Immediately after prohibiting the protests, members of ASI were harrassed and detained. This media lynch included calls for the Appeal Court to overturn the acquittal of the Belgrade Six. It is not surprising that less than two weeks later, the Appeal Tribunal accepted the appeal of the Prosecutor to overturn the acquitaal and return the case to the lower court for a new trial.
The political circumstances that accompanied the process continue in 2015. We will not be intimidated or remain passive. We will continue to participate in social struggles and advocating the creation of a combative union movement of mutual aid and direct action to fight against the State and Capitalism.
ASI Secretariat
(translation shortened from the original text)